Hello and good evening from a basement out in central Minnesota. I hope this missive finds you all doing well.
Tough weekend out there. Lots of people hurt or killed. Dark times indeed. So hug your loved ones a little tighter, and commit to shedding a little more light in the world.
Lots of posts going around today about creating something, making some kind of art to combat the negativity. And while I have a few proverbial irons in the creative fires, I thought I'd take some time to talk about someone whose work I'd only recently discovered, but enjoyed almost immediately: Simon Stålenhag.
Stålenhag is a Swedish visual artist, writer, musician, and tabletop RPG designer, and it seems as though he's been churning out his creative projects for a number of years. As with much of the cool art that's out there*, I'm only learning about it now, hence the whole "late to dinner" phrase in the title.
Many of his paintings (which I understand are completed digitally) place science fiction elements against the backdrop of rural Sweden (in Tales From the Loop and Things From the Flood) as well as the desert, coastal, and mountain towns of California (in The Electric State). This blending of the extraordinary with the ordinary is one of my favorite kinds of storytelling. I like how the outlandish aspects are just seen as part of the world by the characters living there.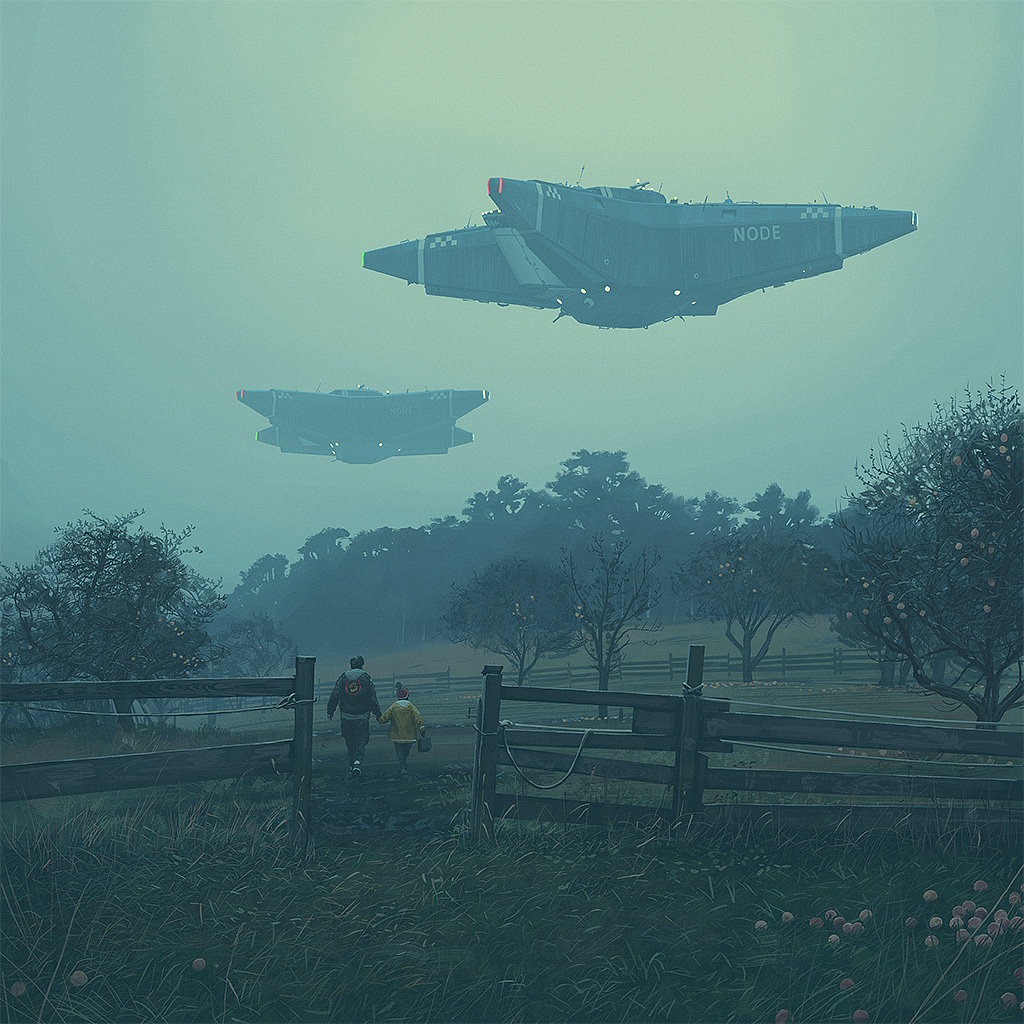 Thankfully, the ever reliable Great River Regional Library System (GRIVER) carried a copy of The Electric State, so I had the opportunity to immerse myself in both the paintings and writing of Stålenhag. The story takes place in 1997 and follows a young runaway, Michelle, and her robot, Skip, as they travel a post-apocalyptic California.
I'm looking forward to checking out Stålenhag's first two books as well as his upcoming work. I think a couple of his books have also been optioned for television and film.
What sorts of things are inspiring you now? What kinds of creative projects are you digging?
I'll close for now. Thanks for reading. Be well. Take care of each other. Shine the light.
-Ryan
*I didn't know anything about the band Neutral Milk Hotel until 6 years after they'd gone on hiatus. Really dug the music, but couldn't catch a live show.